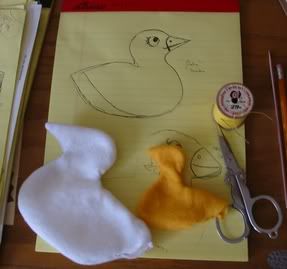 I went out and took a lot of pictures today, trying to get practice with this Canon PowerShot A40, but Blogger isn't responding to uploading my pictures :o( So, here is just one at PhotoBucket. I'll have to post the woods pictures later.
We went looking for land again today, looking on a road not too far from the office. There were four signs, and none of them seemed very good hits. One place wanted 60K+ for a 20 year old trailer and a small lot. EEP! Well, that isn't the usual around here -- so it quickly went in the 'No' pile.
Almost done with my Mom's second dishcloth, and the third duckie (not seen in the pic). Next will be a larger bunny and some sheep! More pics and links later, Have a Great Day!